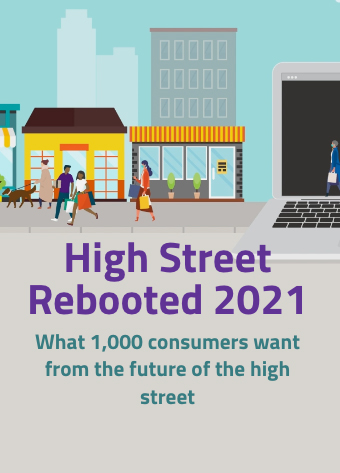 Client:

Diebold Nixdorf

Sector:

Customer experience

Innovation

Stores

Technology
THE BRIEF
To help position Diebold Nixdorf as the go-to partner for UK retailers looking to positively move on from the pandemic and be ready to serve the new consumer.
The company wanted sales-qualified leads of customer experience decision-makers within key retail brands across all sectors, specifically targeting job functions such as chief information officer, chief financial officer and chief marketing officer, as well as director and departmental head influencers.
Diebold Nixdorf also wanted to create a piece of in-depth thought-leadership content that aligns with its business messaging.
THE SOLUTION
Diebold Nixdorf partnered with Retail Week Connect for High Street Rebooted, a landmark report that outlined strategies designed to breathe new life into ailing town centres, backed by exclusive research with 1,000 UK consumers. 
The report, which also ran in 2020, investigated what consumers really wanted from their high street and the longer-term impacts of coronavirus on shopping trends, providing retailers with a strategic blueprint to help save their underperforming stores. 
High Street Rebooted was a digital lead-generation and brand-awareness campaign comprising an in-depth report with supporting commentary and insight from Diebold Nixdorf.
Campaign marketing included:
Online teaser content articles on Retail-Week.com and published on morning briefing newsletters and monthly Connect newsletter 

Social content across LinkedIn (57,400 followers), Twitter (100,000+ followers) and Facebook (5,800+ followers)

Native advertising on Retail-Week.com

Marketing emails to our 35,000-strong database of retail professionals
Results
Leads delivered smashed our benchmark, with double the number of registrations targeted across total downloads and seniority of retailer readership, with major retailers downloading the report including Currys, eBay, Sainsbury's, Boots, Tesco, B&M, John Lewis, Argos, New Look, Lush and Holland & Barrett.